All therapeutic bodywork sessions are provided by a nurse practitioner and licensed massage therapist. During a session, it is possible to have several theories/methods combined to meet the goals and needs of each client.
A first-time client will need to spend extra time initially, to complete an intake form detailing current and past health complaints and discuss this with the therapist. This 3-page form is available HERE. It is best to print this out and complete it at home. Once an agreed upon plan of action is developed with the client, the session may take on several forms.
Therapeutic bodywork is a style of massage therapy which focuses on getting results vs. just relaxing. Using this term indicates that the purpose of the massage is to achieve a structural change or therapeutic benefit in the body. It is style of treatment where massage therapist mobilizes your soft tissue (muscles, tendons, fascia, etc.) to help restore functional use and mobility. You should expect to feel great long after your therapeutic massage session ends, instead of just relaxing for an hour.
Sessions may include aspects of Lymphatic Drainage (MLD), Myofascial Release (connective tissue release), Thai Bodywork, Structural Integration, Medical massage, stretching and range of motion maneuvers, cold laser therapy, acupressure points, hot/cold therapy, trigger point work, and/or balms/liniments/essential oils. Clients often say, "bodywork from Andrea is more focused physical therapy than relaxation!"
A licensed Advanced Nurse Practitioner can provide more focused therapy that may include injections, orders for imaging, labs or other healthcare related needs.
We provide specialty bodywork services for edema and lymphedema issues (Complete Decongestive Therapy), chronic pain issues (not including opioids), musculoskeletal problems and conditions, chronic health issues and surgical/procedural recovery.
Our goal is to help improve function and range of motion in a balanced and whole-body way; all the while getting pain relief. Our patients are of all ages and health conditions. We do provide pregnancy bodywork.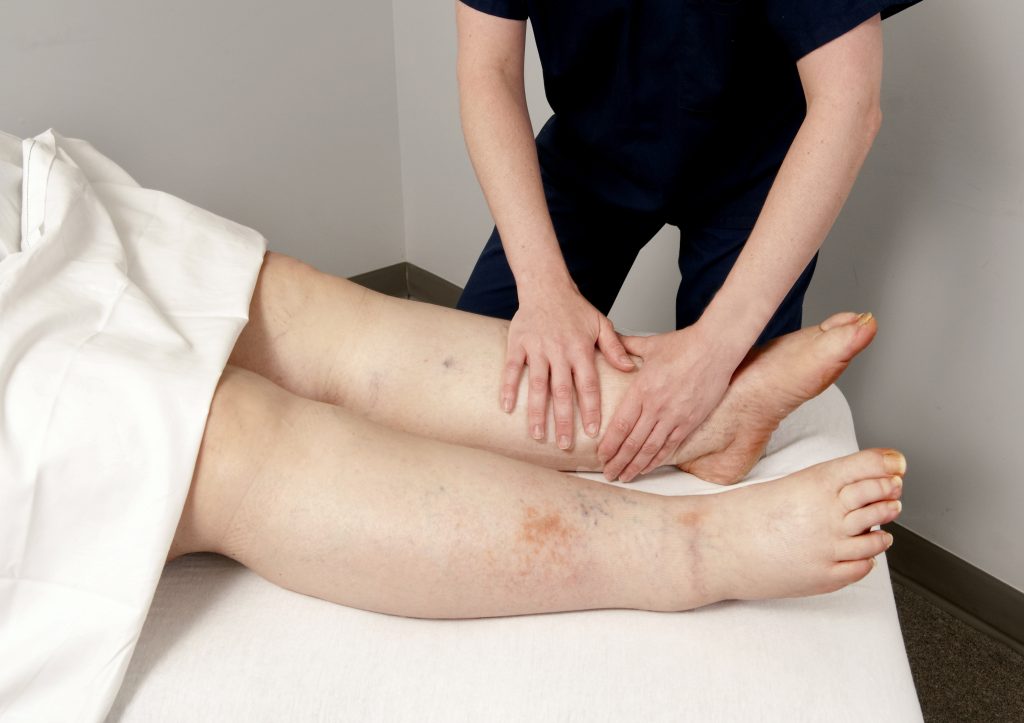 In general bodywork should not hurt, as pain is never the goal of treatment. However, some discomfort during the procedure can be normal, as the muscles and areas of concern are often stressed and sore to begin with.
Unlike many forms of traditional massage, therapeutic and medical bodywork may cause an initial increase in pain and discomfort. The pain should subside a day or two after your session, and you should feel an improvement in your symptoms.

Pain Relief – The Mayo Clinic notes that massage therapy [and bodywork] can be used to help manage pain. Sessions can target specific areas of pain like a sprained ankle, or they can be used to help manage the chronic pain that comes with conditions like arthritis or fibromyalgia.
The focus of therapeutic bodywork is the integration of function between the layers of skin, muscle tissue, tendons/ligaments and fascia (the protective layer surrounding muscles, bones and joints), and skeleton.
Athletes, dancers and people with physically demanding jobs can sustain muscle damage that goes deeply into the body. This can also be the case for people who have been in accidents, surgeries or who have physical limitations.

Don't expect overnight relief of pain. Quite often the chronic pain and muscle damage has built up over time and it may take several sessions begin to heal. Though you will feel some immediate relief, expect to continue the therapy for a while before you decide if it's helping you or not.

Considerations:
It is important to communicate openly and honestly with your therapist especially regarding special needs and individual preferences. Pressure and depth are important aspects of all bodywork to be comfortable with. We prefer you do not struggle or suffer through your session. If it hurts, we need to know to make you more comfortable!
If you prefer oil to lotion or vice versa, if you do not like scented oils and lotions, whether the room is too warm or too cold, etc. These minor yet important concerns should be voiced to ensure an open and pleasant experience.
It is imperative that you work to hydrate the day of your bodywork session. Help your kidneys flush out the toxins and waste products put back into your bloodstream from the bodywork.
Understand that you should not leave the session and go do physically demanding activities. It takes approximately 24-hrs for the bodywork to really settle in. So going for a walk or a leisurely bike ride is fine. But digging post holes or rearranging the attic shouldn't be on the agenda!
Generally, we recommend you get into a bathtub of Epsom salts or a hot tub/hot springs to help with the relaxation and recovery from your session. Additionally, any residual discomfort from the session should be addressed with your favorite topical pain reliever, gentle stretching, heat/ice, and or other aspects of pain management.
INSURANCE: Therapeutic massage is only just starting to be covered by some insurances. They usually require a prescription or some medical referral. We are happy to provide you with a prescription for this!
We do not accept any form of insurance. We can provide a superbill for you to work with your insurance company for reimbursement. Note this reimbursement rate is usually at the non-network provider rate and subject to any deductibles.